Rock Doc (Basic), Rock Doc Certified (FMT1), Rock Doc Advanced (FMT2)
Conditions: Lower Back, Sciatica/Hamstring, Neck, Posture, Tennis Elbow, Shoulder, Knee, Plantar Fascitis, IT Band, Thigh, Shin Splints, Achilles Tendon, Groin, and Calf.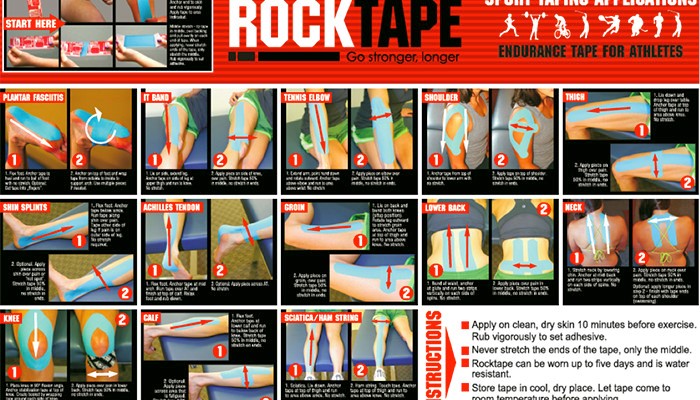 FAQ:
1) What is the purpose of Rocktape?
Rocktape is designed to be stronger and more elastic than any other tape, allowing it to lift up the very top part of your skin (fascia), and allows blood flow into the area to promote natural healing, swelling reduction, and injury prevention.
2) How long can Rocktape last on my body?
3-5 days, depending if you have allergic reaction to it, then recommend removing it right away. Dr. Vu recommends once a week Rocktape application for maintenance/continuing support.
3) Can I shower or involve in water activities with Rocktape on my body?
Yes, Rocktape is water resistant.
4) Can Rocktape be combined with any other therapy cream/gel/spray?
Absolutely. Recommend to apply Rocktape first, then apply anything else after.
5) How fast can I see the result?
Depending on patient's conditions. For patients who do not have any conditions at all or mild condition, it is difficult to tell the difference. Rocktape, however, cannot replace chiropractic adjustment.
6) I notice that part of the tape peeled off. Can I take it off?
If it is only partly peeled, it is recommended to leave it on until seeing Dr. Vu for next visit to replace the tape.
7) Do Rocktape recommend for elders/kids?
No, Rocktape is very strong and elastic. Hence, when removing Rocktape, it can be very difficult for elders and/or kids because of sensitive skin.
8) Can I wear Rocktape to go out and play sports or hiking?
Absolutely! Rocktape application help with improving function, reducing pain, and is a great support for any daily activities.
9) Is Rocktape only for athletes?
No, Dr. Vu had applied Rocktape on ALL of her patients who needed Rocktape, and they had seen tremendous results.